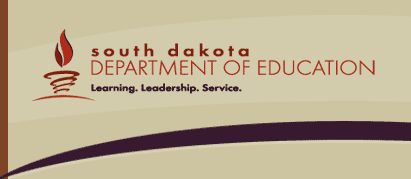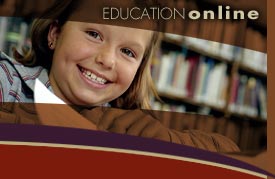 2010


Secretary's Column
Hot Topic: ESEA Reauthorization: Where are we headed?
2010 Legislature: Per-student allocation stays steady
Common Core State Standards Aim is to provide rigor, consistency
NAEP reading scores released, South Dakota ahead of national average
Teachers get paid to review Dakota STEP
School Library Survey Administrators use results to make informed decisions
Give "kudos" to bus drivers
i3 grants to support innovation
Upcoming Events

Section 504 Training: What you need to know
April 21, Sioux Falls - April 23, Rapid City

CTE Standards Alignment Workshop
June 8, Sioux Falls

Balanced Leadership Academy
June 15-16, Black Hills
Healthier School Environment Training
June 20-25, Sioux Falls
SPED conference touches on topics for all teachers
June 21-25, Pierre
K-3 Reading Summer School Academy
July 12-16, Pierre
---
Secretary's Column
By Tom Oster
Department of Education
Meet our new Indian education director

Earlier this year, LuAnn Werdel joined our staff as the state's Indian education director. I have asked LuAnn share a bit about herself and her goals for Indian education in South Dakota.

Anpetu waste!

Dear Friends and Relatives,

I would like to take this time to introduce myself as the Indian Education Director for South Dakota. My name is LuAnn Pettie-Werdel and I am an enrolled tribal member of the Sisseton–Wahpeton Oyate. I am very pleased and honored to be in this position and take my responsibility as director very seriously.

In South Dakota we have some big challenges when it comes to American Indian education. We have a huge achievement gap between Native students and non-Native students in both the reading and math curricula areas. The graduation rate of our American Indian students enrolled in public schools is around 60 percent, and for our students who attend the Bureau of Indian Education schools, it is considerably lower. Average composite ACT scores for our Native American students are more than four points behind the state average for all students. In addition, we have an increasing number of teenage suicides occurring on our reservations in South Dakota.

The statistical picture for our American Indian students is grim to date. However, we have begun work to change this picture, but it will take time, effort and resources in the right hands to begin to correct some of these challenges. We have a pretty good idea of why our students fail - now we must focus on the solutions. Here in South Dakota, we have implemented a variety of strategies, programs and solutions to address these problems, including GEAR UP, I LEAD, the South Dakota College Access Challenge Grant, and the Core Concepts Planning Grant.

While these programs are excellent springboards for success, we must not become complacent. We have so much work to do. The lives of our children depend on the work we will be doing, now and in the future. "The most important responsibility of any society is to ensure the health, protection and education of its young children." (Indian Nations at Risk Task Force, 1991, p.33) We have to continue to improve and create opportunities for our students to experience success. With this in mind, I am presently working on a strategic plan to address these four goals:

1. Increase academic achievement
2. Recruit and retain highly qualified teachers
3. Integrate Lakota-Dakota-Nakota culture into the state standards
4. Develop a Web site that is first and foremost a resource center for all people in South Dakota


Thank you for taking the time to read this update. I look forward to hearing from you!

Toksa,
LuAnn Werdel, M.Ed.


---

Hot Topic: ESEA Reauthorization: Where are we headed?

In March, the Obama Administration released its blueprint for the reauthorization of the Elementary and Secondary Education Act. The blueprint offers broad concepts regarding changes to the current version of the law, commonly known as the No Child Left Behind Act.

While details of the plan have yet to be fully released, here's a glance at some of the items contained in the Blueprint for Reform. To view the entire blueprint, go to http://www2.ed.gov/policy/elsec/leg/blueprint/blueprint.pdf.

• The plan would require states to adopt standards in English language arts and math that prepare students for college and career readiness. States would have two options to meet this requirement: 1) coordinating with their public university systems or 2) collaborating with other states to develop common standards.

• State accountability systems would recognize progress and reward success. There would also be consequences for schools, districts and states not making progress.

• The plan refers to "performance targets" based on student growth and graduation rates, not the categories of proficiency currently used for accountability.

- Those that are successful in reaching performance
targets, closing achievement gaps and turning
around low-performing schools would be
recognized as "Reward" schools, districts and
states.

- Those identified as "Challenge" schools, districts
and states would be required to make dramatic
changes. Challenge schools are those that rank
among the state's lowest-performing schools;
however, there are several categories of challenge
schools.

• The blueprint calls for comprehensive state and district data systems, including disaggregated data as we currently have. But it also calls for collecting information related to: teaching and learning conditions; school climate; student, teacher and school leader attendance; disciplinary incidents; or student, parent or school staff surveys.

• In the area of teacher and school leader effectiveness, states would be required to develop definitions of what "effective" means.

• The plan also calls for state data systems that link information on teacher and principal preparation programs to job placement, student growth and retention outcomes of their graduates.

• District-level evaluation systems would need to differentiate teacher and principal effectiveness, using at least three performance measures.


---

2010 Legislature:
Per-student allocation stays steady

Legislators returned to Pierre earlier this week to finalize the state budget. K-12 education will not receive an increase in funding for FY 2011, which means the per-student allocation will remain at $4,804.60 for another year.

The Legislature also approved a $300,000 cut to the DDN portion of the Schools in Technology budget and a $500,000 cut to Education Service Agencies, effectively eliminating state funding of ESAs.

"Legislators were in a tough situation this year, and they'll likely be in a tough situation again next year," said Secretary of Education Tom Oster. "While we weren't expecting an increase in the formula, we had hoped legislators would be able to avoid making the cuts to DDN and ESAs."

According to Oster, the cut to the DDN budget, which includes everything from e-mail service and Internet access to two-way video conferencing, should not interrupt services to schools. "The Bureau of Information and Telecommunications has stated that they will be able to incorporate efficiencies that will absorb the $300,000. We've been assured that service to schools will remain the same," Oster said.

During the session, legislators did pass several bills designed to ease the financial situation for some districts. HB 1108 allows districts to have a 40 percent fund balance cap through FY 14. But it prohibits a district from growing its fund balance between FY 11 and 15.

HB 1020 and 1021 give districts some flexibility in spending special education dollars, and HB 1248 requires that districts with growing enrollments be paid for those students in the current year – rather than having to wait a year.

Beyond funding bills, the Legislature passed approximately a dozen bills that impact schools. For a summary of education-related bills passed during the 2010 Legislature, click here.
---

Common Core State Standards:
Aim is to provide rigor, consistency

A move toward common core standards among the states continues to inch forward. Last month, the National Governors Association and the Council of Chief State School Officers released a draft of K-12 standards for English language arts and math.

South Dakota is one of 51 states, territories and the District of Columbia that have been working to develop common standards in English-language arts and math. The standards are benchmarked to international standards to guarantee that the nation's students are competitive in the global marketplace.

"We like the concept of providing a clear set of expectations for students that's consistent from one state to the next," said Secretary of Education Tom Oster. "Math and reading skills should be the same no matter if you live in South Dakota or South Carolina."

"As I understand it, states will be asked to adopt the standards as a package, but then we'll have the option to work in any state-specific concepts that we think need to be addressed," he said.

That said, Oster noted that South Dakota won't make any final decisions until the draft standards have been completely ironed out.

Becky Nelson, a team leader with the Department of Education, has been involved in analyzing the proposed standards and comparing them to existing state standards. Overall, she says the standards are fairly comparable, particularly in the area of English language arts.

Last summer, the department had initiated a work group of math teachers to begin revising existing state math standards. That group's work was put on hold when the Common Core State Standards Initiative came about.

"The proposed math concepts actually align well with the recommendations of that work group," Nelson said.

She also noted that in both English and math, the proposed Common Core Standards seem to be "pushing down" particular concepts into the earlier grades.

Following the release of the draft standards, the South Dakota Department of Education hosted Webinars to gather feedback from teachers of English language arts and math. That feedback will be forwarded on to the national level.

The National Governors Association and the Chief Council of State School Officers are the two organizations that have been heading up this effort on behalf of the states.

To learn more, visit http://www.corestandards.org/.


---

NAEP reading scores released, South Dakota ahead of national average

South Dakota's 8th grade reading scores on the National Assessment of Educational Progress rank among some of the highest in the nation. Only three states or jurisdictions – Massachusetts, Vermont and the Department of Defense – had better scores.

While South Dakota's 4th grade reading scores also are higher than their peers across the nation, the gap appears to be closing.

"South Dakota continues to fare well nationally," said Secretary of Education Tom Oster. "Our students have scored above the national average since the state began participating in the NAEP. We've got a solid track record, and we're especially pleased with those 8th grade scores."

The National Assessment of Educational Progress, or NAEP, measures student achievement levels in various subject areas. Reading scores for testing done in 2009 were released earlier today.

At the 8th grade level, South Dakota's average scale score in 2009 was 270, compared to the national average of 262. Only three states or jurisdictions scored higher. Nine scored about the same, and 39 had lower scores than South Dakota. "It appears that the focus our schools have put on reading across all content areas is paying off for our middle school students," Oster said.

At the 4th grade level, South Dakota's average scale score was 222, compared to the national average of 220. Fourteen states or jurisdictions scored higher. Sixteen scored about the same, and 21 had lower scores than South Dakota.

The difference between the state's average score at 4th grade and the nation's average 4th grade score has been decreasing since 2003. "It's not that we aren't doing well; it's that other states are making greater strides in terms of improvement," Oster said.

According to Oster, one of the reasons this may be happening has to do with the alignment between South Dakota's reading standards and the NAEP. "Teachers and students are still getting used to our new, more rigorous reading standards. It takes a while for those concepts to trickle down," he said.

The state Department of Education plans to offer professional development sessions for teachers that will focus on instructional and assessment strategies to improve student achievement in reading.

The NAEP tests a random sample of 4th and 8th grade public school students. The test is given every two years in all 50 states and the District of Columbia and Department of Defense schools. The NAEP scale ranges from 0 to 500. Results are only available at the state level.

For more information related to NAEP, visit http://nces.ed.gov/nationsreportcard/

Grade 4 – Reading
Average scale score

| | | | |
| --- | --- | --- | --- |
| 2003 | 2005 | 2007 | 2009 |
| South Dakota – 222 | South Dakota – 222 | South Dakota – 223 | South Dakota – 222 |
| National – 216 | National – 217 | National – 220 | National – 220 |


Grade 8 – Reading
Average scale score
| | | | |
| --- | --- | --- | --- |
| 2003 | 2005 | 2007 | 2009 |
| South Dakota – 270 | South Dakota – 269 | South Dakota – 270 | South Dakota – 270 |
| National – 261 | National – 260 | National – 261 | National – 262 |
---

Teachers get paid to review Dakota STEP

Do you have teachers with strong opinions about the Dakota STEP? Would they like to have a say in what goes on the test? Here's their chance to have an impact and make a little money in the process!

The South Dakota Department of Education is looking for teachers to serve on work groups related to the Dakota STEP. Each work group requires broad representation from large and small districts, and should include special education and English language learner teachers.

The department will reimburse all selected participants for mileage, meals and lodging (at state rates) and will pay a stipend of $125 per eight-hour workday. The department will also reimburse each participant's district $70 per day to go toward substitute pay, if necessary.

Participants will be notified with details via e-mail once the work groups have been selected in early May.

Data Review Work Groups
There will be three Data Review Work Groups: one for reading, one for math and one for science.

The purpose of the Data Review Work Groups is to review field test items and related performance data from the spring 2010 Dakota STEP, in order to determine each item's eligibility for use in future test administrations.

Data Review Work Groups will meet July 13 in Sioux Falls.

To nominate teachers to participate in the Reading Data Review Work Group, complete this form by April 26.

To nominate teachers to participate in the Math Data Review Work Group, complete this form by April 26.

To nominate teachers to participate in the Science Data Review Work Group, complete this form by April 26.

Bias and Content Work Groups
There will be four Bias and Content Work Groups: one for reading, one for math and two for science (one for elementary science and one for grade 11 science).

The purpose of the Content and Bias Work Groups is to review items for grade-appropriate content, and to identify and eliminate bias from these items to ensure that sensitivity to the diverse circumstances of all students.

The work groups will meet July 14-15 in Sioux Falls. The grade 11 science group will meet only July 14.

To nominate teachers to participate in the Reading Bias and Content Work Group, complete this form by April 26.

To nominate teachers to participate in the Mathematics Bias and Content Work Group, complete this form by April 26.

To nominate teachers to participate in the Science Bias and Content Work Group (grades 5 and 8), complete this form by April 26.

To nominate teachers to participate in the Science Bias and Content Work Group (grade 11), complete this form by April 26.

Please direct any questions to Gay Pickner at the Department of Education, (605) 773-3247 or Gay.Pickner@state.sd.us.


---

Administrators asked to report on libraries

The South Dakota State Library is asking school districts to complete a short, district-level school library survey by May 31. Superintendents: Please watch your mail for instructions on how to access the online survey.

The State Library is charged with collecting annual data from the state's school libraries (14-1-44 (7) Execution of State Library Policy). This year, the State Library has made some changes to the survey – namely, that schools will be asked to submit one survey per district, rather than one survey per library.

"The purpose of gathering school library data is not evaluation," said Assistant State Librarian Daria Bossman. "It is to develop a tool that is current and relevant for planning and decision making. The focus of the data is student achievement in preparing for 21st century career and personal demands."

Research results from across the nation show that effective school libraries result in higher student achievement – achievement that can be measured in improved reading scores. "Effective school libraries have a program, a place, and a professional who collaborates with and supports all content areas in delivering curriculum," Bossman said.

The State Library will compile survey data and report back to superintendents fall of 2010, so that the data can be used in decision-making and school improvement planning.

For information, contact Daria Bossman, South Dakota State Library, at 1-800-423-6665 or (605) 773-3131.


---

Give "kudos" to bus drivers

The South Dakota School Transportation Association will recognize school bus drivers again this year. Drivers will be recognized in three categories:

Driver of the Year
Nominations for the School Bus Driver of the Year are now being accepted. Click here for an easy one-page nomination form. Deadline to submit nominations is May 31. The award will be presented at SDSTA's annual meeting July 16 in Oacoma. Nominees must work for schools or contractors that are SDSTA members.

25 Years of Service
SDTA also will recognize drivers who have 25 years of service or more by June 30, 2010. Click here for information. Deadline to submit names is May 31. This award can be presented at the summer meeting or mailed to the school district. Nominees must work for schools or contractors that are SDSTA members.

Retiring Drivers
Any driver who is retiring this year – whether they are an SDSTA member or not – is eligible to receive this award. Click here for the nomination form, which may be submitted any time prior to a retirement date. Allow two weeks for the certificate to be processed.

Nominations for all three categories of recognition should be sent to:
Tim Steichen, Transportation Supervisor
Watertown School District
PO Box 730
Watertown SD 57201
Phone: (605) 882-6335
FAX: (605) 882-6327
Tim.Steichen@k12.sd.us


---

i3 grants to support innovation

The U.S. Department of Education has announced its final priorities for the $650 million Investing in Innovation, or i3, Fund. Projects that address four priorities – one of which is "serving schools in rural areas" – will receive competitive preference.

Individual school districts or groups of districts can apply for i3 grants. Entrepreneurial nonprofits can join with school districts or a consortium of schools to submit applications.

To qualify for the competitive grants, applicants will need to address one of the four areas driving the Obama administration's school reform agenda: supporting effective teachers and principals; improving the use of data to accelerate student achievement; complementing the implementation of standards and assessments that prepare students for success in college and careers; and turning around persistently low-performing schools.

Applicants will receive a competitive preference if their project addresses one or more of the following priorities: improving outcomes for young children; expanding students' access to college and preparing them for success in college; addressing the unique needs of students with disabilities and of limited English proficient students; and serving schools in rural areas.

Unlike other federal grant programs where evidence is a selection criterion, in the i3 program evidence is a formal eligibility requirement. The i3 regulations also include specific definitions for what constitutes strong evidence, moderate evidence and a reasonable hypothesis, and will award three types of grants based on these three levels of evidence.

Development grants will require a reasonable hypothesis and will be aimed at helping develop fresh ideas. Validation grants will require moderate evidence and will be aimed at validating and spreading promising programs to regional scale. Scale-Up grants will require strong evidence and will be aimed at bringing proven programs to a national scale.

Once identified as an award recipient, applicants will need to demonstrate how their programs will be sustainable after federal grants are completed. They will also need to find a 20 percent cash or in-kind match of the federal award from the private sector.

To assist recipients in their efforts to find private matches, U.S. Ed has launched an online community, the Open Innovation Portal. Through this portal, the department hopes to facilitate partnerships by convening like-minded individuals to accelerate the development, identification and broad use of innovative products, practices and processes to improve education in schools.

i3 grant applications are available at http://www.ed.gov/programs/innovation/index.html Applications will be due mid-May, with grants awarded in September.

The i3 Fund is part of the American Recovery and Reinvestment Act.
Upcoming Events


Section 504 Training:
What you need to know
April 21, Sioux Falls - April 23, Rapid City
CTE Standards Alignment Workshop
June 8, Sioux Falls
Balanced Leadership Academy
June 15-16, Black Hills
Healthier School Environment Training
June 20-25, Sioux Falls
SPED conference touches on topics for all teachers
June 21-25, Pierre
K-3 Reading Summer School Academy
July 12-16, Pierre
---

Section 504 Training: What you need to know

The Department of Education will host training regarding Section 504 of the Rehabilitation Act as it pertains to preschool, elementary, middle and secondary programs. John Copenhaver will lead the training sessions.

With the recent passage of the Americans with Disabilities Act Amendments of 2009, there have been changes in Section 504 that school districts should be aware of.

Trainings will be held:
April 21, 9 a.m.-3 p.m., Sioux Falls
Holiday Inn City Center, Starlight Room

April 23, 9 a.m.-3 p.m., Rapid City
Rushmore Plaza Holiday Inn – Salon E (main floor)

Each recipient will receive copies of the updated South Dakota Section 504 Guidelines and related information.

Register online at http://www.escweb.net/sd_esa/default.aspx by choosing the date of the training you wish to attend.


---

CTE Standards Alignment Workshop

What does moving to a standards-driven curriculum really mean for career and technical education instructors? Join in on a Standards Alignment Workshop, June 8, to evaluate your current offerings (program of study) and align your courses to the state's CTE core standards.

By the end of the workshop, participants will have at least one course outline prepared for the 2010-11 school year with guidelines in structuring other courses. To qualify as an approved CTE program in South Dakota, local courses must align with state CTE core standards. Participants must bring course syllabi and/or unit outlines to the workshop.

The workshop runs 9 a.m. to 3 p.m. It will be held at Southeast Technical Institute in Sioux Falls. To register, visit http://www.escweb.net/sd_esa/ and type in Session ID 44303.


---

Balanced Leadership Academy

The Balanced Leadership Academy focuses on leading change efforts in K-12 schools. A new cohort for superintendents and principals begins June 15-16 in the Black Hills. BLA is a joint effort of the School Administrators of South Dakota, Department of Education and University of South Dakota.

Cost is $400 for SASD members and $500 for non-members. Learn more at http://doe.sd.gov/secretary/projectLEAD/programs/BLA.asp. Applications must be received at SASD by April 16, 2010.

South Dakota's Learning Power program is funded by a grant from the National Math and Science Initiative. The aim of this professional development activity is to raise the bar for instruction and learning, so more students are prepared for higher-level learning and Advanced Placement courses. The summer institute focuses on pre-AP and enhancing the capacity of teachers to provide a challenging curriculum for all students.

An application form is available at www.learningpower.tie.net. Applications are due April 30. Applicants will receive e-mail notification of acceptance by May 7.

Slots for the summer institute are limited. Preference will be given to early applicants and to applications reflecting team involvement.

For more information, contact MaryLou McGirr, project coordinator, at (605) 394-1876 or mmcgirr@tie.net.


---

Healthier School Environment Training

Registration is now open for staff interested in improving the nutritional environment at their school or agency. Creating a Healthier School Environment is a one-week class offered at the South Dakota Child Nutrition Institute, June 20-25, in Sioux Falls. The Institute is held at Augustana College.

The class will cover funding and grant writing for nutrition-related projects, teamwork skills for school wellness committees, creative marketing ideas and nutrition resources.

Teachers may apply for 30 education contact hours after completion of the class. The class has a size limit and will be filled on a first-come, first-serve basis.

The Early Bird registration fee is $195 per person if registration form and payment are received by April 30. The regular registration fee is $235 per person. The deadline for registration is Friday, May 28.

For more information, visit http://doe.sd.gov/oess/cans/index.asp or contact Janelle Peterson at (605) 773-2977.


---

SPED conference touches on topics for all teachers

With mental health, bullying and dyslexia as major topics of discussion, the first half of this year's Special Education Programs and Transition Services Liaison Project summer conference will be beneficial for all educators. The conference is slated for June 21-25 at the Ramkota in Pierre.

The second half of the conference is geared more toward high school special education teachers and parents of high school students receiving special education services.

Teachers can attend one or both events. Participants can receive graduate credit for attending. Click here for more information.


---

K-3 Reading Summer School Academy

This event will take place July 12-16 at Jefferson Elementary in Pierre. Participants will be involved in a variety of activities focused around observing reading instruction from real teachers with real students during a summer school format.

Topics include: increasing active participation through management and engagement, explicit and direct instruction, Big 5, data and differentiation to target needs.

For more information or to register, visit http://www.escweb.net/sd_esa/ and type in Session ID 44290. Undergraduate or graduate credit available.