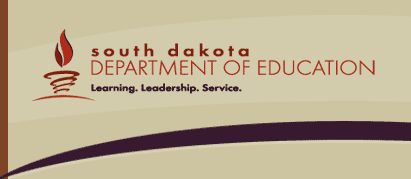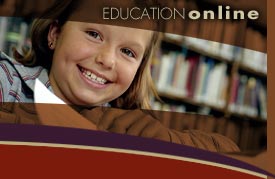 2010


Secretary's Column
Hot Topic: New school year means new writing test
State applies for assessment funding
We've moved
On target for AYP release
FREE opportunity to honor Teacher of the Year
Board of Education to meet in Pierre
Upcoming Events

Conference to address all things CTE
Aug. 1-4, Pierre
Top 20 Training: Making a positive difference
Aug. 2-3, Sioux Falls
Don't miss: Trainings for new state writing assessment
Beginning Aug. 30 online
Gifted education conference coming to Pierre
Sept. 12-13, Pierre
---
Secretary's Column
By Tom Oster
Department of Education
Three big things

You're going to be hearing a lot about the department's "3 Big Things" as the new school year approaches. Please be aware of these important initiatives for 2010-11 and share with the appropriate people on your staff.

#1 – SDMyLife promotion
If your school hasn't used SDMyLife.com yet, you're going to want to do it NOW. The SDMyLife homepage is getting a facelift, and come Sept. 27, the department will launch a campaign inviting high school students to visit the site and to register for education-related prizes such as laptops and e-readers.

From the homepage, students can log in to access all of the site's academic and career planning resources, including the section on building a Personal Learning Plan. (Remember, per the new graduation requirements, Personal Learning Plans are required for all students entering 9th grade, beginning this fall.)

Your school counselor is the one who provides the SDMyLife log-ins. Training will be offered for those counselors who have not yet been through the training or who need a refresher.

SDMyLife.com is provided free to school districts by the Department of Education.

#2 – Reading Up
We believe this initiative has the potential to increase the state's reading scores, which are already high but could use a boost. What we've done is to identify the two English Language Arts standards at each grade level that our students struggle with – based on performance on the Dakota STEP.

Using this data, we will provide focused professional development that targets these specific standards at the appropriate Bloom's level. Participants will bring their own lesson plans and work through the process of aligning them to the appropriate Bloom's level of difficulty.

In the classroom, this should translate to a deeper understanding for your students. In the NCLB world, it could move the needle up on statewide reading scores.

#3 – WriteToLearn
South Dakota has a new writing test beginning with the coming school year. We piloted WriteToLearn in 2009-10 and received positive feedback.

The WriteToLearn assessment is a formative, online assessment rather than the summative, paper-and-pencil test we used to use. Both teachers and students will benefit from the immediate feedback available via the online system. The new test will be administered three times throughout the school year.

The department will work with your testing coordinators on the details of test administration, but we want you to be aware of the benefits this new system offers.


---

Hot Topic:New school year means new writing test

South Dakota will have a new statewide writing assessment beginning in the 2010-11 school year. The online, formative assessment is called WriteToLearn.

State law requires that all students in grades 5, 7 and 10 participate in a state writing assessment.

"Based on feedback from the field, we knew that we needed to make a change, and we wanted to move in the direction of an online system that provides immediate feedback," said Wade Pogany, director of Assessment and Technology Systems for the Department of Education.

WriteToLearn was piloted in March 2010 in 77 school districts and received favorable reviews overall.

"Teachers were pleased with the move to a formative assessment," Pogany said, which allows them to gauge student understanding and to adjust their instruction accordingly. Students indicated that they were most excited by the immediate feedback provided by the online system.

The state Department of Education will purchase student licenses for the WriteToLearn program for all public school students in the required grades. Students will be required to respond to one writing prompt during the three separate testing windows: Oct. 1-Nov. 30; Dec. 1-Feb. 28; and March 1-May 31.

Trainings for testing coordinators and teachers will be held in early September. District compliance will be measured strictly by student participation during each testing window. The state will not collect individual student scores, and school scores will not be compared.

Districts will have the opportunity to purchase off-grade licenses for the WriteToLearn program at a state-negotiated rate. Additional information related to off-grade licenses and the state writing assessment can be found at http://doe.sd.gov/octa/assessment/writetolearn.asp.

A demo of the WriteToLearn program is also available at http://school.writetolearn.net/demo.html.

For more information, contact Erin Larsen at the South Dakota Department of Education, (605) 773-2533.


---

State applies for assessment funding

South Dakota is one of 31 states in the SMARTER Balanced Assessment Consortium, which applied for funding under the Race to the Top Assessment program. The consortium is seeking the funds to design an assessment aligned to the recently released Common Core Standards. The grant is worth as much as $160 million.

"South Dakota currently spends about $5 million on our statewide assessment system," said South Dakota Secretary of Education Tom Oster. "With the national movement toward common standards, it only makes sense that we share the cost of developing a new test. It's an opportunity to create a high-quality assessment in a cost-effective manner."

If funded, the assessment would be an adaptive online system. It is expected to include the required summative exams, as well as optional formative exams. Teachers also would be able to access a variety of tools to use in implementing informal, ongoing assessment. With these tools, teachers will be able to get a clear picture of student understanding and adjust their instruction accordingly.

The U.S. Department of Education is expected to announce the grant awards in September.

South Dakota has not yet adopted the Common Core Standards. Any such action will go through the state Board of Education. The board is expected to have an initial discussion about the topic at its July 27 meeting.
---

We've moved

As of July 1, the Department of Education has moved to its new home in the MacKay Building at 800 Governors Drive in Pierre. The MacKay Building is just north of the Kneip Building, where the department was previously housed. The department is located on 2nd floor, and the State Library is on 1st floor.

All staff telephone numbers, fax numbers and e-mail addresses will remain the same.

Please make note of the address change.


---

On target for AYP release

The release of adequate yearly progress results, and the 2010 State Report Card, remains on schedule for the end of July.

The two biggest changes you will notice in the determination of AYP this year are as follows:

1) The graduation rate has been increased to 85 percent (rather than 80 percent) or growth of at least 2 percentage points over the previous year. This decision came directly from the U.S. Department of Education.

2) The minimum N-size for subgroups has been changed to 25 for accountability purposes; for reporting purposes, the N-size for subgroups remains at 10.

To access South Dakota's most current Accountability Workbook, which details the entire accountability process, click here.

Superintendents should watch for an e-mail pointing them to online AYP results toward the end of this month.

Questions regarding AYP data and calculations:
Judy Merriman, (605) 773-4737
Laura Ellenbecker, (605) 773-4727
Teri Jung, (605) 773-8197
Tom Morth, (605) 773-2539

Questions regarding Title I and school improvement:
Diane Lowery, (605) 773-6509
Beth Schiltz, (605) 773-4716

Questions regarding special education:
Linda Turner, (605) 773-6119


---

FREE opportunity to honor Teacher of the Year

Would you like to give your District Teacher of the Year some state-level recognition? Send him or her to the Systems Change Conference, Oct. 13-15, in Chamberlain, and we'll foot the bill.

This year, the Department of Education is paying for district Teachers of the Year to attend the annual Systems Change Conference. We will cover the cost of the conference, lodging and meals during the event. Districts will be responsible for mileage and the cost of subs.

The Thursday evening banquet will be a tribute to all of the 2009-10 Teachers of the Year in attendance. In addition, the South Dakota Teacher of the Year for 2011 will be announced in front of this group of peers. The night's featured speaker is Sarah Brown Wessling, the current National Teacher of the Year, who is from Iowa.

This effort will take the place of the annual Governor's Teacher Leadership Conference.

Your 2009-10 District Teacher of the Year will receive an official invitation in August. If you haven't already provided us with that person's name (see list below), please do so by July 19. Click here to submit information.

As of July 7, the following districts have already submitted their district Teacher of the Year's name.
Agar-Blunt-Onida
Baltic
Belle Fourche
Bon Homme
Brandon Valley
Brookings
Chamberlain
Custer
Flandreau
Garretson
Gettysburg
Hill City
New Underwood
Pierre
Sanborn Central
Spearfish
Vermillion
Wagner
Wall
West Central




---
Upcoming Events
Conference to address all things CTE
Aug. 1-4, Pierre
Top 20 Training: Making a positive difference
Aug. 2-3, Sioux Falls
Don't miss: Trainings for new state writing assessment
Beginning Aug. 30 online
Gifted education conference coming to Pierre
Sept. 12-13, Pierre
---
Conference to address all things CTE

Brought to you by the Department of Education and the South Dakota Association for Career and Technical Education, the 2010 Career and Technical Education Conference is geared toward teachers, administrators and counselors. This year's event is slated for Aug. 1-4 at the Ramkota in Pierre.

The conference will provide innovative, hands-on activities related to SDMyLife.com, High School 2025, Career Clusters, Programs of Study, Personal Learning Plans and Career Guidance. Participants will explore ideas to assist them in preparing students for postsecondary education.

For more information, visit http://doe.sd.gov/octe/training/PathwaysToSuccess/index.asp.


---
Top 20 Training: Making a positive difference
If you were given the free opportunity to gain life-changing skills that will make a positive difference in your students' lives, would you take it? The chance is yours Aug. 2-3, when the Department of Education brings Top 20 Training to Sioux Falls.

Since 2000, Top 20 Training has been empowering youth and adults to make a positive difference in the quality of their lives, relationships and experiences. From Top 20 training and books, educators have discovered immediately applicable tools for developing the potential of their students and enhancing the culture of their classrooms and schools.

Other benefits to educators include:
• More effective and rewarding work experiences with students, colleagues and parents
• Problem solving skills when conflict arises
• Awareness of how to remove some of the roadblocks to student success in school
• Adaptable curriculum for classes, counseling sessions and advisory periods
• Effective ways of reducing negativity in the school culture

For more information about Top 20 Training, go to www.top20training.com. To register for the Sioux Falls training, visit http://www.escweb.net/sd_esa/

Continuing education contact hours are available.

Contact Becky Cain, Department of Education, at (605) 280-3568.


---
Don't miss: Trainings for new state writing assessment

The Department of Education will host the following trainings for educators involved in administering the new statewide writing assessment, WriteToLearn. The online assessment will be delivered three times during the school year to students in grades 5, 7 and 10. It replaces the old Dakota Writing Assessment.

Testing Coordinator Trainings – held via Webinar
(More details to come)
Aug 30: 10-11 a.m.
Aug 31: 2-3 p.m.
Sept 1: 10-11 a.m.
Sept 2: 2-3 p.m.

Account Administrator Trainings – held via Webinar
(More details to come)
Aug 31: 10-11 a.m.
Sept 1: 2-3 p.m.

Teacher Trainings – half-day, face-to-face sessions
(One teacher per district)
Sept 13: Rapid City
Sept 14: Pierre
Sept 15: Aberdeen
Sept 16: Sioux Falls
Sept 17: Sioux Falls


---

Gifted education conference coming to Pierre

A conference for those who work with high-ability students will be held Sept. 12-13 at the Ramkota RiverCentre in Pierre. Keynote speaker is Dr. Karen Rogers, who will discuss "Ten Elements Needed in Every Successful Gifted Program." Rogers is the author of "Re-Forming Gifted Education" and a faculty member at the University of St. Thomas.

The conference also includes a pre and post workshop titled "Great Explorations in Math and Science (GEMS)" for credit. This workshop is sponsored by the South Dakota Discovery Center and the South Dakota Space Grant Consortium.

The conference is sponsored by the South Dakota Association for Gifted Children.

To learn more, visit their website at http://www.sd-agc.org/