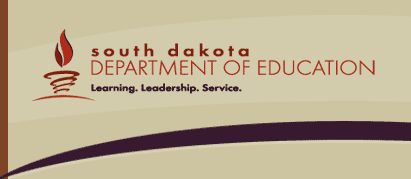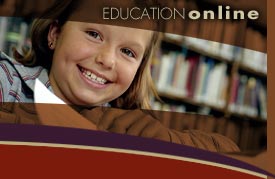 2010


Secretary's Column
Hot Topic: 2011 Teacher of the Year: Spotlight on outstanding teachers
Board considers Common Core Standards for English, math
New state health standards, rules for end-of-course exams
Loss of federal funding: One more reason not to text and drive
Bridging cultures through writing
Schools named to U.S. Ed's Blue Ribbon list
Public School Exemption form has been changed
Upcoming Events



READING Up workshops slated
September-October, locations statewide
Watch for IEP Workshops
October-December, locations statewide
Get re-energized at Systems Change
Oct. 13-15, Chamberlain
Conference promotes parental involvement
Oct. 15-16, Rapid City
SoDakSACA conference heads West
Oct. 15-16, Deadwood
---
Secretary's Column
By Tom Oster
Department of Education

Here's a quick look at some state-level happenings this past week that should be of interest to you.

Common Core State Standards
As you are aware, the state Department of Education has been involved in discussions regarding the Common Core State Standards throughout the last year. It was gratifying to be able to present those proposed standards to the South Dakota Board of Education earlier this week. I believe that the idea of common standards among the states is an idea whose time has come. When you look across this country, our current system provides no consistency of expectation from state to state. The proposed Common Core Standards will help to lay that groundwork -- providing all of us, whether we're in South Dakota or South Carolina, with clear, rigorous and consistent goals for learning.

Once we were able to answer the question of a common assessment, which could save states like South Dakota hundreds of thousands of dollars, I was convinced that this is the right thing to do. Anyone interested in providing comment on the proposed Common Core Standards will have several options to do so. Please read this month's story about the Common Core to find out how you can offer public comment.

Common course numbering system
Earlier this week, many of you received an e-mail regarding the move to a common course numbering system. While this process will require some work on your part, we believe it's the right thing to do in the long run. The move to common codes, which will be printed on all high school transcripts, will provide consistency across the state. Once the initial work is done, upkeep should be minimal. Also, you have until May 1, 2011, to implement the codes. If you desire, you can contract with Campus to upload courses. We appreciate your cooperation in this matter, and our staff is ready to answer any questions you may have.

Indian education
Finally, I had the privilege of attending this year's Indian Education Summit, Sept. 26-28, in Chamberlain. The event had record attendance -- more than double the attendance of previous years. It was a great conference. It left me feeling hopeful about the potential to impact the lives of our American Indian students. In the past few weeks, I also visited several school districts in Indian Country -- McLaughlin and Smee -- and was impressed by the efforts being made in those schools to implement a culture of learning, to engage students and to infuse Native American culture into the educational experience. The folks I met at those places were passionate about their students, and I applaud them for their efforts. I know that Shannon County also has had some recent success in improving Dakota STEP scores. As we move forward with addressing challenges specific to educating our American Indian students, it will be crucial to gather these types of success stories and best practices, and figure out how to replicate them at schools across the state.


---
Board considers Common Core Standards for English, math

South Dakota is one step closer to adopting the Common Core State Standards. At its Sept. 28 meeting, the state Board of Education voted to move the Common Core to a public hearing in November.

"It's an idea whose time has come," said Secretary of Education Tom Oster. "Common standards will help to ensure that all students receive a high quality education consistently, whether that student is in South Dakota or South Carolina."

Currently, each state has its own process for developing, adopting and implementing standards. As a result, what students are expected to learn can vary widely from state to state. The Common Core Standards set clear, rigorous and common goals for success in two content areas: English language arts and math.

"These standards have been built from the highest state standards in the country," Oster said. "They're rigorous, they're evidence-based, and they align with college and work expectations."

They also align closely with South Dakota's current standards for English language arts, and the new math standards the state was developing when the Common Core initiative was first announced, said Becky Nelson, who oversaw the alignment efforts for the state. According to Nelson, the department has shared previous drafts of the Common Core Standards with teachers and curriculum directors across the state, and response response has been mostly positive.

States also have some flexibility to add to the Common Core if they wish. "For us, that addition would likely include concepts that are unique to South Dakota, such as the American Indian content standards that we're working on," Oster said.

Two big questions remain
While the board could vote to adopt the Common Core Standards as early as November of this year, implementation would be delayed. New standards would require a new assessment – to replace the existing Dakota STEP – and test development is a lengthy and expensive process.

South Dakota is part of a consortium of 31 states that recently received a $160 million grant to begin development of a state-of-the-art assessment aligned to the Common Core Standards.

"The assessment tool would need to be in place, and we would need to have an extensive training of teachers – giving them time to become familiar with the new standards – before we could begin implementing them in classrooms across the state," Oster said.

The department will present a plan for implementation at the November Board of Education meeting.

South Dakota has another factor to consider when weighing adoption. States that adopt the Common Core Standards will likely enjoy a competitive edge when applying for federal grants. States that don't adopt could lose out on competitive grant funds made available by the U.S. Department of Education.

Now taking public comment
The South Dakota Board of Education will take public comment regarding the Common Core Standards at its Nov. 29 meeting in Mitchell. View the proposed standards at:

Proposed English Language Arts Standards – Common Core

Proposed Mathematics Standards – Common Core

Comments also can be mailed to:
Becky Nelson
South Dakota Department of Education
800 Governors Drive
Pierre, SD 57501

After Nov. 1, public comment can be e-mailed to commoncore@state.sd.us.
---
New state health standards, rules for end-of-course exams
New Health Education Standards were approved by the Board of Education Sept. 28. A timeline for implementation will be announced at a later date.

A Health Education Standards Revision Committee, comprised of K-12 and postsecondary educators, has been working on the project since summer of 2009. The committee reviewed the National Health Education Standards, which focus on teaching students how to become health literate by addressing the core concepts of nine different content areas.

The committee recommended that South Dakota adopt the National Health Education Standards. The board voted 9 to 0 in favor of adoption.

The board also voted to adopt new rules for districts that choose to create their own end-of-course exams. The rules offer standard procedures for developing valid and reliable tests.

For more information, contact:

Health Education Standards
Karen Keyser, (605) 773-6808

End-of-Course Exams
Viki Crichton, (605) 773-8193


---

Loss of federal funding:
One more reason not to text and drive

Texting and driving is a no-brainer, but could it also impact your federal funds? The answer is yes. Executive Order 13513 prohibits any federal grant recipients, sub-recipients and their grant personnel from texting while driving a government-owned vehicle, or while driving their own vehicle during official grant business.

It also prohibits the use of government supplied equipment to text or email while driving. So, be safe and put away those Blackberries while you're on the road!

On a similar note, the Federal Motor Carrier Safety Administration issued its Final Rule prohibiting texting by commercial motor vehicle drivers. The FMCSA is exercising its authority to amend the commercial driver's license regulations to add to the list of disqualifying offenses a conviction under state or local traffic laws or ordinances that prohibit texting by CDL drivers while operating a CMV, including school bus drivers.

In the preamble to the Final Rule, FMCSA states, in part:

"…both government and private drivers of school buses requiring a CDL would be subject to the CDL disqualification if they are convicted of 2 or more serious traffic violations, which can include a conviction for violating a State traffic law prohibiting texting while driving."
---

Bridging cultures through writing

Students can gain cultural understanding, practice writing and win great prizes when they participate in the department's Year of Unity Writing Contest. The contest is being conducted to commemorate Gov. Mike Rounds' proclamation of 2010 as the Year of Unity in South Dakota.

The contest is open to 4th and 11th grade students in South Dakota. Each school district is allotted only one submission per grade level. All entries must be submitted by Nov. 15 in order to be considered at the state level. Please coordinate at the school and district level.

Entries can be written in any form the writer chooses – poem, essay, short story or any other text – but all entries should reflect a message of unity, with a special focus on Native and non-Native relationships. At the state level, prizes will be awarded to the top three submissions in each grade. Districts may choose to secure prizes at the local level, but it is not required.

State-level prizes:
--1st place: 8G ipod Touch and $500 savings bond
--2nd place: 8G ipod Touch and $200 savings bond
--3rd place: 8G ipod Touch and $100 savings bond


For more information, contact Marta Stirling at the Department of Education, (605) 773-4662.


---

Schools named to Blue Ribbon list

Three South Dakota schools were recently lauded by the U.S. Department of Education. Burke High School, Harding County High School and Stickney High School were among 304 schools throughout the nation designated as 2010 Blue Ribbon Schools. They will be honored at an awards ceremony Nov. 15-16 in Washington, D.C.

The Blue Ribbon award honors public and private elementary, middle and high schools whose students achieve at very high levels or have made significant progress and helped close gaps in achievement especially among disadvantaged and minority students. Stickney received the honor because of its high achievement levels, while Burke and Harding County received the honor because of progress made in closing achievement gaps.

The U.S. Department of Education has been recognizing Blue Ribbon schools since 1982.

Click here to view the national announcement.


---
Public School Exemption form has been changed
The Application for Public School Exemption Certificate has been updated to include criteria that is required by the federal government to be reported by the districts.

Moving forward, districts should use the new Application for Public School Exemption Certificate. You can find it at doe.sd.gov and click on "Home School" in the Index.

Click here for an explanation of the federal race and ethnicity reporting requirement.


---
Upcoming Events


READING Up workshops slated
September-October, locations statewide
Watch for IEP Workshops
October-December, locations statewide
Get re-energized at Systems Change
Oct. 13-15, Chamberlain
Conference promotes parental involvement
Oct. 15-16, Rapid City
SoDakSACA conference heads West
Oct. 15-16, Deadwood
---
READING Up workshops slated

Fifty READING Up workshops will be held at locations across South Dakota this fall. READING Up offers targeted professional development to improve student performance on specific English language arts content standards. It will follow the Standards in Practice method, which can be used to review, revise and align lessons and student assignments to grade-specific standards at the appropriate Bloom's Taxonomy level.

Learn more and access the READING Up schedule.
READING Up is an initiative of the South Dakota Department of Education.


---

Watch for IEP Workshops
The department's Special Education Programs is conducting several IEP Workshops this fall. Workshops will cover information regarding: child find and pre-referral strategies; determining suspected areas of disabilities; prior notice/consent and procedural safeguards; evaluation procedures and reporting; developing and implementing an IEP.

Oct. 12, 8:30 a.m.-4:30 p.m. (Central Time)
First Lutheran Church, Brookings
Session ID: 46165

Oct. 21, 8:30 a.m.-4:30 p.m. (Central Time)
Huron Middle School, Huron
Session ID: 46437

Nov. 2, 8:30 a.m.- 4:30 p.m. (Central Time)
School District Administrative Office, Yankton
Session ID: 46439

Nov. 5, 8:30 a.m.-4 p.m. (Central Time)
Milbank High School
Session ID: 46070

Nov. 17, 8:30 a.m.-4:30 p.m. (Mountain Time)
Western Dakota Technical Institute (main entrance), Rapid City
Session ID: 46441

Dec. 8, 8:30 a.m. - 4:30 p.m. (Central Time)
Governors Inn, Pierre
Session ID: 46443

To register for an event, go to http://www.escweb.net/sd_esa/ and enter the appropriate Session ID.


---

Get re-energized at Systems Change

"Passion and Persistence in Education" is the theme of this year's Systems Change Conference, slated for Oct. 13-15 in Chamberlain. The event will be held at Cedar Shore Resort.

The 2011 South Dakota Teacher of the Year will be announced during the Thursday evening banquet. The National Teacher of the Year, Sarah Brown Wessling of Iowa, will address the audience that night as well.

To review an agenda and to register, click here.


---

Conference promotes parental involvement

The 3rd Annual Parent Conference, "Learning Starts at Home," will be held Oct. 15-16 at the Rushmore Plaza Holiday Inn in Rapid City. Anne Henderson, author of "Beyond the Bake Sale," is the featured speaker.

The event is free.

To view the complete agenda and to register, visit SDPIRC's website.


---

SoDakSACA Conference at Deadwood

What do Wild Bill Hickock, Calamity Jane and South Dakota afterschool professionals and school leaders have in common? They'll all be in Deadwood Oct. 15-16 for the South Dakota School Age Care Alliance's (SoDakSACA) annual state conference! This year's event will be held at The Lodge, the newest conference hotel and casino in the Hills area. The conference will include great keynotes and entertainment, including Randy Parrish, Linda Henley Smith and Gordy Pratt. Dr. Paul Young, president and CEO of the National AfterSchool Association (and past president of the National Association of Elementary School Principals) will be delivering the Saturday luncheon keynote and some breakout sessions. Book your rooms now by calling The Lodge at (877) DWD-LODG and be sure to mention the SoDakSACA conference to get the conference rate.

New this year! Plan to stay over on Saturday night so you don't miss the first-ever "Lights On Afterschool" event at Mt. Rushmore co-sponsored by SoDakSACA and SD Afterschool Partnership. Buses will be transporting conference attendees to Mount Rushmore and back to the hotel Saturday night after the conference, courtesy of SoDakSACA.

Click here for more information.