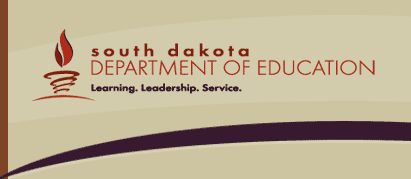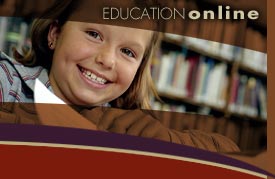 2011


Hot Topic:

Celebrating American Education Week
Outstanding educators recognized
Danielson pilot schools selected

Technology Corner:

School communications: There's an app for that!

2011 NAEP results: 4th grade reading scores sluggish, remaining scores above average
South Dakota students make significant gains on AP exams
South Dakota 2010 School Health Profiles now available
School libraries: Moving forward in the 21st century
Districts receive EPSCoR grants for STEM projects
Upcoming Events

Common Core Literacy Lessons – Collaborating and Creating
IEP Workshops
8 Standards for Mathematical Practice
Dakota STEP-A Pre-Test Workshops
---
Hot Topics:
Celebrating American Education Week
American Education Week is Nov. 13-19. Listen to a message from South Dakota's Secretary of Education at http://doe.sd.gov/edCAST/index.asp
Outstanding educators recognized
Congratulations to Pat Moller, Mitchell, South Dakota's 2012 Teacher of the Year, (http://doe.sd.gov/pressroom/news.asp?ID=275) and Nicole Keegan, Rapid City, the state's newest Milken Award winner! (http://doe.sd.gov/pressroom/news.asp?ID=276)
Danielson pilot schools selected
Thirteen districts have been chosen for the pilot to implement the new state standards for teaching, based on Charlotte Danielson's Framework for Teaching.

The pilot districts are: Aberdeen, Brookings, Custer, Deuel (middle school only), Harrisburg, Kimball, McCook Central, Stanley County, Todd County, Wagner, Webster Area and White River.

The pilot districts will receive training and technical assistance from either East Dakota Educational Cooperative or TIE.

To learn more about this project, contact Deb Barnett or Lanette Johnston at the Department of Education.
---

Technology Conner:

School communications: There's an app for that!

The Parkston School District recently launched its smartphone applications, and Superintendent Shayne McIntosh has been fielding questions ever since. Here, he shares a bit of information about the process.

Q: How did you get the idea to create a smartphone app for your district?
A: One of the goals of our school board is continuously improving internal and external communication with the public in our area. We currently use television, listservs, emails, Internet, and one of things we identified was the trend of smartphones. One day, it just kind of clicked: Why couldn't we have a mobile app?

Q: What type of information is available through the app?
A: The app's main menu contains several options. A notifications option will let parents know about any school closings or early dismissals, and can alert parents as soon as a school closing is posted. There's a school directory with access to staff members' photos and contact information. School lunch menus and event calendars are also available.

A lot of the information is on the school's website too, but this is just one more way to get the information out there for the public right away. Most people aren't in front of their computers all the time, but more and more people are carrying smartphones today. There are a lot of shortcuts, and the information is available instantly and presented specifically for this platform.

Q: What did the process involve once you decided to go ahead with creation of the app?
A: We did some research and went with a company that had some experience creating apps for school districts in other parts of the country. We wanted to find people within the state who could do this, but there wasn't a whole lot of local expertise in this field yet. There was a small cost for the district, and it took about 4-6 weeks for them to complete the app to our specifications. We wanted to have variety of selections on the main menu. Later, Parkston hopes to add sponsors to give local businesses the opportunity to advertise within the app and to help make it self-sustaining. So far, the feedback has been very positive.


---

Inside the NCLB flexibility package

South Dakota is working on an application to apply for 10 flexibilities (http://www.doe.sd.gov/pressroom/educationonline/2011/november/documents/Waivers.pdf) from No Child Left Behind, as announced by the U.S. Department of Education in late September. In exchange, the state must agree to address four key principles (http://www.doe.sd.gov/pressroom/educationonline/2011/november/documents/Principles.pdf) aimed at improving student achievement and increasing the quality of instruction.

U.S. Ed's 10 flexibilities (http://www.doe.sd.gov/pressroom/educationonline/2011/november/documents/Waivers.pdf)
U.S. Ed's 4 key principles (http://www.doe.sd.gov/pressroom/educationonline/2011/november/documents/Principles.pdf)

"In some respects, it seems that by applying for this waiver, we are exchanging one system for another," said Dr. Melody Schopp, South Dakota's secretary of education. "However, we know that NCLB has not been an effective mechanism for accountability, and this gives us an opportunity to establish our own state-developed system that has to meet some broad federal requirements."

Schopp said South Dakota plans to design a waiver application that aligns with the state's long-range educational priorities. "When it's completed, our waiver application should provide a comprehensive plan that braids together our efforts related to quality standards and assessments, college and career readiness, effective teachers and leaders, and ambitious but achievable goals for schools."

The state Department of Education has been working with an Accountability Work Group, which was assembled prior to the announcement of the flexibilities, to develop a new accountability system for South Dakota. Schopp said that group's work will help to inform the state's application.

The group consists of representatives from the education field, and includes superintendents, principals, teachers, other school administrators, legislators, and representatives from the South Dakota Education Association, School Administrators, Associated School Boards, Board of Education, and higher education.

Click here to access a PowerPoint that offers a brief overview of U.S. Ed's flexibility package. (http://www.doe.sd.gov/pressroom/educationonline/2011/november/documents/WaiverSum.pdf)


---

2011 NAEP results: 4th grade reading scores sluggish, remaining scores above average

South Dakota's 4th grade reading scores on the 2011 National Assessment of Educational Progress were down two points from 2009. South Dakota was one of two states to see its scores for reading at the 4th grade level drop, while the national average stayed steady for the 3rd consecutive year.

The National Assessment of Educational Progress, or NAEP, is based on a scale of 0 to 500. It is administered nationwide every other year to students in grades 4 and 8. The test was most recently administered January through March 2011.

South Dakota is now on par with the national average scale score of 220 for 4th grade reading. The state remains above the national average for reading at 8th grade and both grades for math.

"This is a call to action for us," said Dr. Melody Schopp, South Dakota's secretary of education. "We are sliding to the middle, and that's not where we want to be. These results are reflective of what we see on our own state test – that our scores have reached a plateau. It begs the question: Are we truly challenging our students?"

"The state has not engaged in a comprehensive effort to address student achievement in these areas for several years. We have begun with the Common Core training this year, and it might be time to consider additional meaningful training. We need to help our state's outstanding teachers find new methods to challenge our students, and reward them for their efforts," Schopp said.

Schopp believes the adoption of the Common Core standards in English language arts and math should help to address the issue. The Common Core standards are more demanding, with a focus on higher-order thinking skills. "Not only will students have to possess the basic knowledge, but they will have to be able to apply that knowledge and justify their thought process," she said.

The state fared well in math, where only five states scored higher than South Dakota at the 8th grade level. The average 8th grade scale score in math was 291 in South Dakota, compared to 283 nationally. At 4th grade, South Dakota had an average scale score of 241 in math, compared to the national average of 240.


---

South Dakota students make significant gains on AP exams

More South Dakota students are taking Advanced Placement exams and are performing better on those exams, according to a report recently released by the College Board.

Participation in Advanced Placement exams has risen steadily in South Dakota since 2006-2007, when 1,948 students took at least one AP exam. Last year, 2,481 students took at least one AP exam, an increase of more than 27 percent in five years' time. Those 2,481 students took a total of 4,207 AP exams.

"What's even more impressive is that the number of exams on which students scored a 3 or better increased by 15 percent over the previous year," said Sarah Carter, who oversees Advanced Placement for the state.

Students who receive a score of 3 or better on an AP exam can receive college credit.

The pass percentage for all students in South Dakota was 67.9 percent in 2011, 10 percentage points higher than the national average of 57.9 percent.

"Increasing the rigor of the high school experience and making sure that our students are properly prepared for education beyond high school are extremely important," said South Dakota Secretary of Education Melody Schopp. "AP is one concrete way we can ramp up the rigor for our students. So, we're excited to see these results."

Schopp credits the increase in the number of AP exam test takers, in part, to the South Dakota Virtual School. Since its introduction during school year 2007-2008, the South Dakota Virtual School has expanded to include a more robust menu of Advanced Placement courses, including a number of AP courses offered to students and districts for free. That allows students in remote areas of the state to access AP resources not available before to them.

Students taking at least one AP exam

| | |
| --- | --- |
| School year | Number of students |
| 2006-07 | 1,948 |
| 2007-08 | 2,113 |
| 2008-09 | 2,172 |
| 2009-10 | 2,337 |
| 2010-11 | 2,481 |
Students with grade of 3 or higher on AP exams
| | |
| --- | --- |
| School year | Number of students |
| 2006-07 | 1,266 |
| 2007-08 | 1,330 |
| 2008-09 | 1,436 |
| 2009-10 | 1,492 |
| 2010-11 | 1,666 |
---

South Dakota 2010 School Health Profiles now available

South Dakota Coordinated School Health has released the 2010 School Health Profiles. Copies of the report were made available to the public in late October.

The profiles are a biennial study conducted by the South Dakota Department of Education to assess the status of elementary and secondary school health education curriculum and instruction, as well as school policies and practices related to student health and wellness, physical education, nutrition, tobacco prevention, and health services within their schools.

Questionnaires were mailed to a random sample of public school principals and lead health teachers during the spring of 2010 with subsequent follow-up mailings during the summer and fall of 2010.

Data from the profiles can be useful when grant writing, advocating for a healthier school environment, and improving a school's overall health program.

Click here to access state-level fact sheets compiled by the Centers for Disease Control. (http://www.cdc.gov/healthyyouth/profiles/topic_facts.htm)
Click here to access South Dakota's full profiles. There are separate reports for elementary and secondary. (http://doe.sd.gov/schoolhealth/schoolhealthprofiles.asp


---

School libraries: Moving forward in the 21st century

What does it mean to be a 21st century school library? The South Dakota State Library, a division of the Department of Education, is forming a statewide taskforce to formally and annually recognize school districts that have libraries that meet the characteristics of 21st century school libraries.

This taskforce will create a voluntary self-assessment of best practices. Included in the self-assessment will be three levels listing specific criteria to best describe and delineate "Essential," "Enhanced" and "Exemplary" school libraries that model and teach 21st century learning skills, practices, technology and access to resources.

The state's newly adopted School Library Content Standards and School Library Guidelines will guide the work of this group. (http://library.sd.gov/LIB/SLC/index.aspx#Guidelines)

Additionally, the State Library anticipates that this taskforce could begin the discussion of an evaluation tool for certified school librarians based on the Charlotte Danielson framework.

If you would like more information about this taskforce, would like to participate or volunteer someone in your district, please contact any of the following State Library staff: Daria Bossman, Joan Upell or Mary Johnson at 1-800-423-6665. There may be an initial meeting in Pierre, but the bulk of the work will be done via conference calls.


---

Districts receive EPSCoR grants for STEM projects

Ten South Dakota organizations will receive a total of $200,000 to enhance, expand and develop new opportunities in secondary career and technical education, specifically in the areas of Science, Technology, Engineering and Mathematics, or STEM.

Funding for these EPSCoR grants is provided through the National Science Foundation; the state Department of Education administers the funds. EPSCoR stands for Experimental Program to Stimulate Competitive Research.

Projects range from dual-credit opportunities in the information technology and robotics fields to cutting-edge courses in pre-engineering and biosciences. Applicants were encouraged to collaborate by combining resources to provide secondary career and technical education opportunities in regional, multi-center or cooperative approaches. The Department of Education received 19 funding applications.

EPSCoR funds were awarded to the following:

• Brookings School District
• Burke School District
• Clark School District
• Lake Area Multi District
• Northwest Area Schools Education Cooperative
• Platte-Geddes School District
• Sioux Falls School District (received two grants for separate projects)
• Stanley County School District
• Todd County School District
• Yankton School District

For more information about EPSCoR, go to http://www.nsf.gov/od/oia/programs/epscor/about.jsp.


---
Upcoming Events
Common Core Literacy Lessons – Collaborating and Creating
IEP Workshops
8 Standards for Mathematical Practice
---

Common Core Literacy Lessons – Collaborating and Creating
Oct. 25, 2011–April 24, 2012, Online via LiveMeeting


K-12 classroom teachers and school librarians are invited to partner to collaborate for deeper understanding of the Common Core State Standards for English language arts and the South Dakota School Library Standards. Content delivered through monthly Webinars. Graduate credit and contact hours available. For more information, go to: http://doe.sd.gov/onlinecalendar/102511d.aspx.


---

IEP Workshop
Nov. 10 in Mobridge
Nov. 21 in Aberdeen
Nov. 22 in Madison


The IEP Workshop will take you through all the essentials of an IEP. Presenters will cover all areas of special education, from referral to placement to IEP development. This interactive workshop will help you analyze data and write appropriate IEPs for students with varying disabilities.

To register, go to: https://spreadsheets0.google.com/spreadsheet/viewform?formkey=dFBCcHpWbTZ3WFR6OWRHZF9zQTdDWlE6MQ


---

8 Standards for Mathematical Practice
Jan. 9–27, 2012, Various locations statewide

To help promote the awareness of the 8 Standards for Mathematical Practice in the Common Core State Standards, the South Dakota Department of Education will be hosting one-day workshops at various locations statewide. The workshops will run from 8 a.m. to approximately 3:30 p.m. in the time zone of the location, and are open to all K-12 staff.

These workshops will be facilitated by South Dakota Counts mathematics specialists and are separate from the other Common Core workshops being offered this year. Educators who are or are not signed up for the Common Core workshops are welcome to attend. The workshops are free to attend; however, the Department of Education will not be able to provide reimbursements for travel or substitutes.

Specific dates and locations are listed as follows:

• Jan. 9 – Rapid City
• Jan. 11 – Platte
• Jan. 11 – Sioux Falls
• Jan. 12 – Sioux Falls
• Jan. 20 – Aberdeen
• Jan. 20 – Spearfish
• Jan. 24 – Rapid City
• Jan. 27 – Pierre
• Jan. 27 – Watertown

To sign up for any one of these sessions, or for more information, visit http://www.doe.sd.gov/octe/commoncoreStandards.asp.

Registration will close Dec. 2. Contact Bill Kliche (william.kliche@state.sd.us) with any questions.


---