Child and Adult Nutrition Services
In South Dakota, the Child and Adult Nutrition Services is responsible for administering the U.S. Department of Agriculture's Food and Nutrition Services and Food Distribution Division programs. These programs furnish resources to eligible local agencies who provide food in meals or commodities to participants.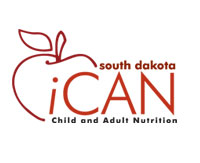 Programs include:
Schools must be accredited in accordance with Department of Education policies, Residential Child Care Institutions must meet licensing criteria, and Day Care Homes/Centers must be registered or licensed. All local agencies annually renew the agreement and meal policy statement. Upon filing accurate and prompt claims/orders with CANS, agencies receive federal reimbursement for meals and snacks and/or commodities based on participation.