Digital Library
The Digital Library is a collection of professional learning resources and instructional resources using South Dakota standards to help educators tailor their instruction to students' needs using the Formative Assessment Processes. Educators will be able to use these resources throughout the school year to:
• Advance their use of formative tools
• Better understand where students are in their learning
• Identify any misconceptions
• Make quick adjustments to instruction

Digital Library Resource Monthly Spotlight: SEPTEMBER HIGHLIGHT
Excited to announce our NEW Digital Library RESOURCE SPOTLIGHT!


The SDDOE will use this space to offer monthly spotlighted resource ideas that are being used and recommended by your fellow South Dakota educators. If you are currently using or have used resources from the Digital Library that you would highly recommend to a coworker, then why not share them across the state? Don't hesitate to send great resources that you find in the SBAC Digital Library to Joe.Moran@state.sd.us as we are always looking to hear about what is working in your classroom!
Stoplight Method: One Way to Assess at the End of a Lesson


We are beginning our new resource spotlight with a formative assessment strategy that is quick and to the point for the start of the 2017-2018 school year. The Stoplight Method is a handy and effective formative assessment teaching strategy that also aids educators in building a collaborative classroom environment and developing differentiated instruction. On the educator end, this strategy can truly be used at any level and with any discipline to help determine how students are progressing with their understanding of a concept. On the student end, this strategy provides the invaluable opportunities to engage in the feedback process and evaluate their own learning strategies using the support of their peers.

Click on the picture to link to the resource. You will need your Digital Library username and password. If you are currently not registered, then click here for registration with your school issues email account as your username!

"This is a great strategy for involving students in the formative assessment process. I think it is good for students to reflect on their learning right from the beginning of the year" - Resource recommended by Kim Webber, second grade educator from Rapid City Area Schools.
Digital Library Update:
Check out the new Digital Library Homepage!
Digital Library Homepage Flier

We're pleased to let you know that the Digital Library search experience has been significantly improved, and we encourage you to check it out. The new search experience:
Saves you time. It's four times faster, and automatically displays resources that align with your subject area and grade-level.
Saves you energy. Each resource type has it's own search page, and distinguished resources are always displayed at the top.
Keeps you connected. Instructional resources are linked to Smarter Balanced assessment targets.
Assessment Target Tag User Reference
The attached flier and this short video demonstrate the new search experience. If you haven't used the Digital Library in a while, we encourage you to log on now. And if you haven't yet registered for the Digital Library, visit www.sbdigitallibrary.org to learn more and sign up for a new account.
Digital Library Self-Registration Function:
This function allows educators to register themselves for the Digital Library. It will also allow users to reset their own password. Get access now by registering on the Digital Library log on page!
Select Register on the log on screen

Input First Name, Last Name, and District issued Email Address (This is important as access is email domain dependent)
Next, a "DO NOT REPLY" email from Smarter Balanced will be sent to the new user with their initial log on information
DL Username is the district issued email address and password will initially be an issued generic sequence of characters
Upon first log on, user will be directed to create their own unique password
If issues arise with receiving or not receiving the "DO NOT REPLY" email from Smarter Balanced, please contact Joe Moran, at joe.moran@state.sd.us
Formative Assessment process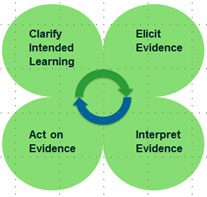 Smarter Balanced defines formative assessment as a deliberate process utilized by teachers and students during instruction to provide actionable feedback, which is then used to adjust ongoing teaching and learning strategies to improve students' attainment of curricular learning targets/goals.
What is the difference between resources?
An Instructional Resource is a file in the Digital Library that helps educators focus their instruction on the South Dakota standards using formative assessment practices that help educators develop practices that support more in-depth learning.
A Professional Learning Resource is a file that helps educators deepen their understanding of the South Dakota standards, the formative assessment process, and a balanced assessment system.
Some resources in the Digital Library serve both purposes and are labeled Combination of Instructional and Professional Learning Resource.
Why use the Digital Library?
Resources are vetted against a set of quality criteria.
Resources are contributed by educators for educators.
Resources include the formative assessment process and are aligned to South Dakota Standards.
The Digital Library includes innovative collaboration features that promote collegial conversations across the country.
The Digital Library contains over 100 interactive multi-media assessment literacy and ELA and mathematics instructional modules.
Technology Coordinator Tips
To facilitate a smooth registration process for your district's educators please Whitelist the following inbound email addresses:
1. Smarter-DoNotReply@smarterbalanced.org
2. DoNotReply=smarterbalancedlibrary.org@srmail.smarterbalanced.org
3. DoNotReply@srmail.smarterbalanced.org

Contact:
For more information about the Digital Library, contact Joe Moran at (605) 773–3247.