Title I Part C - Migrant Programs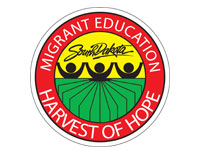 The goal of the Migrant Education Program is to ensure that all migrant students reach challenging academic standards and graduate with a high school diploma (or complete a GED) that prepares them for responsible citizenship, further learning, and productive employment.
Program Purpose
The purpose of this part is to assist States to:
support high-quality and comprehensive educational programs for migratory children to help reduce the educational disruptions and other problems that result from repeated moves;
ensure that migratory children who move among the States are not penalized in any manner by disparities among the States in curriculum, graduation requirements, and State academic content and student academic achievement standards;
ensure that migratory children are provided with appropriate educational services (including supportive services) that address their special needs in a coordinated and efficient manner;
ensure that migratory children receive full and appropriate opportunities to meet the same challenging State academic content and student academic achievement standards that all children are expected to meet;
design programs to help migratory children overcome educational disruption, cultural and language barriers, social isolation, various health-related problems, and other factors that inhibit the ability of such children to do well in school, and to prepare such children to make a successful transition to postsecondary education or employment; and
ensure that migratory children benefit from State and local systemic reforms.
Definition
According to sections 1115(b)(1)(A) and 1309(2) of the statute and section 200.81(d) of the regulations, a child is eligible for the MEP if:
The child is younger than 22 and has not graduated from high school or does not hold a high school equivalency certificate (this means that the child is entitle d to a free public education or is of an age below compulsory school attendance); and
The child is a migrant agricultural worker or a migrant fisher or has a parent, spouse, or guardian who is a migrant agricultural worker or a migrant fisher; and
The child has moved within the preceding 36 months in order to obtain (or seek) or to accompany (or join) a parent, spouse, or guardian to obtain (or seek), temporary or seasonal employment in qualifying agricultural or fishing work; and
Such employment is a principal means of livelihood; and
The child:

Has moved from one school district to another; or
In a State that is comprised of a single school district, has moved from one administrative area to another within such district; or
Resides in a school district of more than 15,000 square miles and migrates a distance of 20 miles or more to a temporary residence to engage in a fishing activity. (This provision currently applies only to Alaska).
Local Projects
HURON
Kari Hinker
Phone: 605-353-6992, Fax: 605-353-6993
105 5th Street SW, Huron SD 57350-0949
Dawn Marshall
Phone: 605-353-6900, Fax: 605-353-6913
1045 18th SW, Huron, SD 57350
SIOUX FALLS
Demi Moon
Phone: 605-367-7923, Fax: 605-367-7871
201 E. 38th St, Sioux Falls, SD 57105-5898
STATEWIDE CONSORTIUM
Gwyneth Dean-Witte
Phone: 605-354-3826
Migrant Statewide Consortium
National Migrant Hotline
1-800-234-8848
If you and your family move from one school district to another to work in farming or agriculture, your child might be eligible for the migrant education program. To find out if your child is eligible, or to contact the local migrant education program for services, call from any place in the country.
When you call, be prepared to give the following information:

- Your Name
- Where You Are Located
- Where You Moved From
- When A Recruiter Could Visit You
Contact
If you have questions, please contact Jenifer Palmer, (605) 773-4437, or the Title Office at the South Dakota Department of Education at 605-773-6400.

Migrant Education - USDOE