The JAG Advantage
The JAG Advantage is based on a promise: JAG will give students an advantage that will set them apart from all other youth in today's emerging workforce through student-centered programs that help young people achieve their fullest potential.
Project Based Learning
Project Based Learning (PBL) is a proven approach to prepare students for academic, personal and career success, where other strategies and traditional curriculum has failed. Research identifies the principles of PBL as a foundation to implement more learner-centered, inquiry-based, and active learning methods. JAG follows the Buck Institute for Education PBL model, a nationally recognized practice. JAG shifted to a PBL instructional strategy in 2015 as a vehicle to deliver JAG's employability skills competencies, specific industry and employer content and engagement, and community problems and solutions. Elevating our education practice to this gold level standard ensures learners gain the benefit of real-world relevance that is critical to today's workforce needs.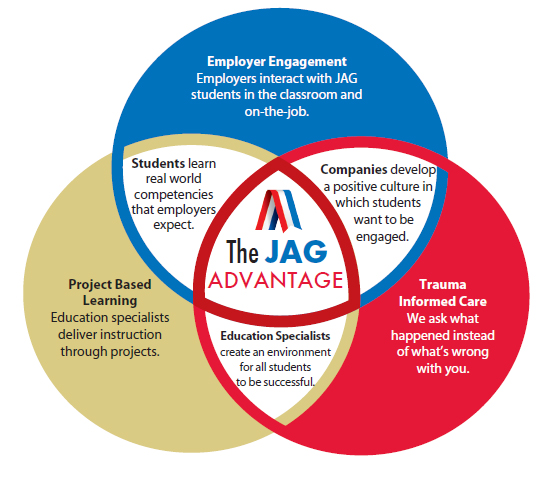 Trauma Informed Care
An increasing number of JAG students have experienced trauma. In the book Fostering Resilient Learners: Strategies for Creating a Trauma-Sensitive Classroom trauma is described as "an exceptional experience in which powerful and dangerous events overwhelm a person's capacity to cope."" JAG is a resiliency model. It demonstrates how to build relationships, gives learners voice and choice (even more so through PBL), teaches life skills, and helps learners overcome adversity.
Employer Engagement
Employer engagement has been a cornerstone activity of the JAG program since inception. In leveraging employer engagement as an instructional strategy, JAG elevates the practice by developing meaningful connections between our students and professionals, ideas and skills, and the classroom and real-life situations. Employers invest their resources, talent and knowledge to customize individual learning experiences for JAG students. Work-based activities and learning advances effective employer partnerships to provide students with the inspiration, motivation, knowledge and skills needed to be successful in post-secondary education and career pathways. This strategy deepens career exploration and first-hand experience in working environments to optimize advancement for learners. PBL provides a natural vehicle to implement workforce development practices in the classroom, preparing students for employer experiences.
The JAG Model blends these approaches and when delivered effectively, Specialists will deliver JAG competencies, engage the Student Center Association, and work with employers in strategies that are healthy and supportive to JAG students.