What is JAG-SD?
JAG is a class taught in high schools and middle schools by a JAG Specialist, who is an employee of the school district. The credit class can satisfy an elective credit required for high school graduation. Students are empowered to take the lead on planning projects centered on civic responsibility, leadership, social interaction, academic performance and professionalism. JAG students collectively decide how projects, class assignments and community engagement activities are carried out by electing a governing body, assigning leadership roles, then holding each other accountable. The eighty-four (84) JAG competencies are the result of employers' views on desired worker traits and skills, job search reviews and considerable feedback by Specialists. The thirty-seven (37) core competencies are grouped into six (6) clusters: Career Development, Job Attainment, Job Survival, Basic Skills, Leadership and Self-Development, and Personal Skills.
The overarching purpose of the JAG-SD program is to provide participants with classroom and work-based learning experiences that result in a quality job, leading to a fulfilling career after graduation.
JAG-SD has proven to be a cost-effective and successful program by increasing:
Graduation Rates
Academic Performance
Attendance
Job Placement
Continued Education/Training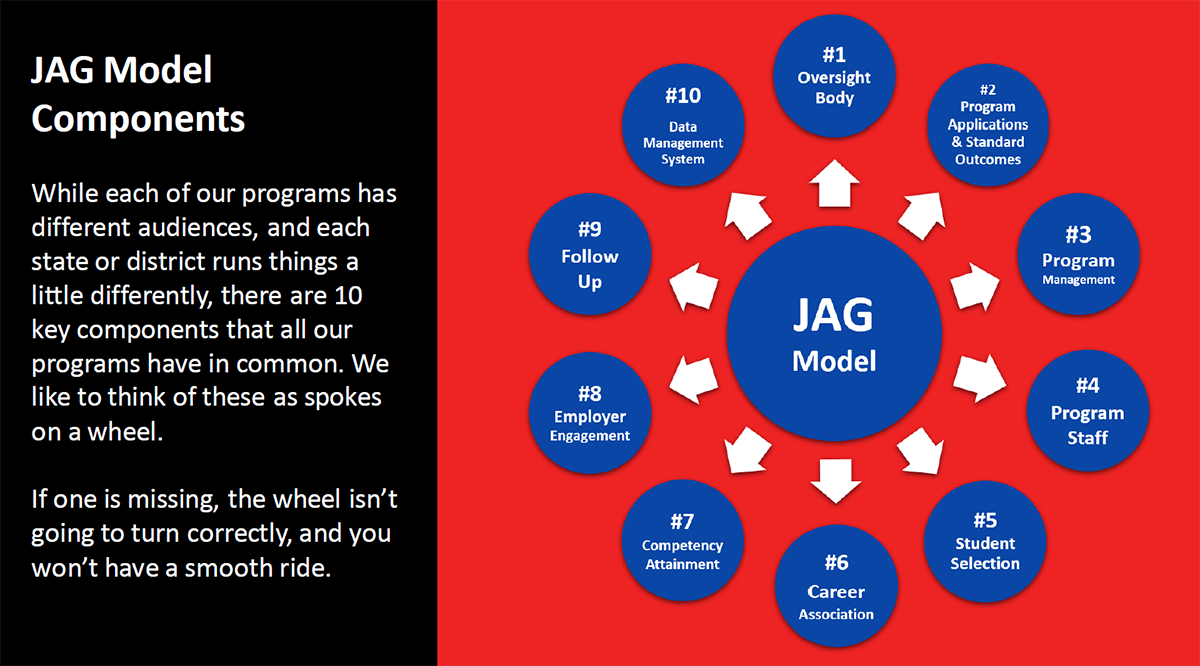 JAG-SD History
JAG-South Dakota was piloted at Wagner Community School and Andes Central High School during the 2009-2010 school year. By the third year, the South Dakota Office of Indian Education began overseeing JAG-SD. Three programs were active in districts located within American Indian Reservations.
In 2012, four JAG Multi-Year program students from Wagner High School spoke at the National Indian Impacted Schools Association Annual Conference in Las Vegas and shared how the JAG program has helped them in being prepared for the future.
JAG-SD ebbed and flowed through the years. 2014 brought an expansion of JAG-SD along with the first state Student Leadership Conference. During the 2017-18 school year, six high schools and two middle schools had 237 students participating in their schools' JAG programs.
Resilient JAG-SD Specialists and students have kept JAG-SD progressing. In October 2019, Governor Noem experienced a moving visit to Wagner's JAG program where she heard students' powerful stories. Following subsequent student testimonials during the 2020 legislative session, Governor Noem fully funded a state director to help support and increase the impact of JAG-SD. The 2020 Legislature also created a special donations fund for the program.
Currently the South Dakota Department of Education is seeking to expand the number of JAG programs across the state.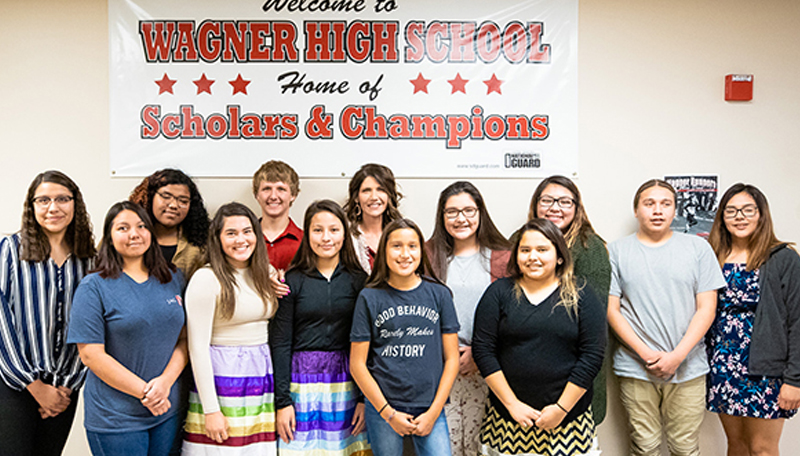 Governor Kristi Noem (center) celebrating JAG-SD success in Wagner (2019)