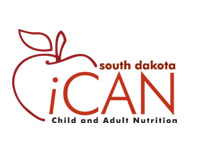 Summer Food Service Program
The Summer Food Service Program provides meals to children in low-income areas when school is not in session. Throughout South Dakota, sponsors such as schools, private non-profit organization, and government entities participate in providing meals during school vacations.
To participate in the program, a sponsor must first determine if it serves a low-income area. The sponsor may have an area with 50 percent of the area's population qualified for free or reduced priced meals, which allows all children age 18 and under to eat meals for free. If a select group of low-income children participate in a program that is not in a low-income area, each child will qualify and if over 50 percent of those in the program qualify for free or reduced priced meals each month, all the children 18 years of age and under in attendance at the site may receive free meals. Camps are an exception; both residential and non-residential camps must collect and maintain income eligibility forms. Camps are reimbursed only for those enrolled children who meet the free and/or reduced price eligibility standards.
For more information, contact the SD Department of Education, Child and Adult Nutrition Services at 605-773-3413, or DOE.SchoolLunch@state.sd.us. Numbered Memos are available for reference.