Hot Topic Archive:
Nov. 14, 2022
General fund cash balance accountability waiver extended
Last week, the Legislature's Joint Committee on Appropriations accepted the School Finance Accountability Board's recommendation to extend the waiver of the general fund cash balance accountability an additional year. This action extends the waiver through the end of FY 2024.
---
Nov. 8, 2022
School Nutrition Program equipment grants available
National School Lunch Program equipment grants are now available for school year 2022-23. More than $250,000 in U.S. Department of Agriculture funding was received, which is more than four times the amount typically awarded. Find more information and the application on the Child and Adult Nutrition Services School Nutrition Program webpage under the "Equipment Grants" heading. Applications are due by mail, not email, and must be postmarked by Nov. 30, 2022.
---
Oct. 27, 2022
Coming in early 2023: SD Educator Certification Portal
The South Dakota Educator Certification Portal will be a one-stop shop for educators and schools that integrates the certification application system with Teacher 411 and the Personnel Record Form. This new system is designed with the user and customer service in mind. More information to come.
---
Oct. 24, 2022
Nation's Report Card released: South Dakota performing well compared to nation
Results of the 2022 National Assessment of Educational Progress (NAEP) were released earlier today. While some states experienced double-digit declines in average test scores, South Dakota scores stayed above the national average and experienced less volatility than other states.
---
Oct. 13, 2022
South Dakota public schools weather pandemic well
The Department of Education published the 2021-22 Report Card today. The online resource provides a wealth of data to help parents, educators, and community and state leaders understand how their public schools perform on select metrics.
---
Oct. 12, 2022
South Dakota outperforms nation on ACT
South Dakota's graduating class of 2022 earned an average ACT composite score of 21.5, which is above the national average of 19.8 and the highest among neighboring states. Considering the state's public school test-takers only, the average composite score was 21.6. The ACT is used to gain admission into colleges and universities throughout the country and for scholarship consideration.
---
Oct. 11, 2022
South Dakota schools recognized as 2022 National ESEA Distinguished Schools
The South Dakota Department of Education is pleased to announce that Lake Preston Elementary and Whitewood Elementary (Meade School District) have been named 2022 National ESEA (Elementary and Secondary Education Act) Distinguished Schools. They will be honored at the National ESEA Conference to be held in February 2023.
---
Oct. 7, 2022
Teacher Feature: 2023 SD Teacher of the Year nominees
Meet South Dakota's Regional Teachers of the Year. One of these outstanding educators will be named 2023 State Teacher of the Year on Oct. 13:
---
Oct. 6, 2022
Free, online tutoring available for K-12 students
South Dakota students and families can access a new, online tutoring program, staffed by college students who are preparing to become teachers. The Dakota Dreams Online Tutoring Program offers FREE online tutoring to K-12 students. One-on-one tutoring sessions can help students with their homework, tackle specific trouble areas, and address broader educational concepts. Families must first register their students to access the service.
---
Sept. 22, 2022
DOE launches Good to Great Teachers mentoring program
We are launching Good to Great Teachers, a mentoring program aimed at empowering teachers in years 3-5 of their career by increasing teacher effectiveness and fostering self-efficacy. Experienced educators will guide small cohorts of participants through reflective practices to increase confidence in four key areas: communication skills, reflective practice, classroom management, and student engagement. Teachers who successfully complete the program will earn three graduate credits. Apply by Oct. 7.
---
Sept. 22, 2022
Celebrate the 2022 South Dakota Crunch Off
The South Dakota Crunch Off is a statewide event to celebrate local produce and Farm to School by crunching into any South Dakota grown "crunchy" fruit or vegetable. Anyone can participate. Simply register your crunch event and post a photo or video crunching to social media with #SouthDakotaCrunch. South Dakota Crunch Off events may occur anytime between Sept. 26 and Oct. 7, 2022. Learn more and register your event.
---
Sept. 19, 2022
Congratulations to South Dakota's newest National Blue Ribbon Schools
Ethan Elementary, Holy Spirit Elementary (Bishop O'Gorman Catholic Schools), Sonia Sotomayor Elementary (Sioux Falls), and Timber Lake Elementary have been named 2022 National Blue Ribbon Schools. Across the country, 297 schools received this prestigious honor. National Blue Ribbon Schools serve as models of effective school practices for state and district educators and other schools throughout the nation.
---
Sept. 19, 2022
September is Suicide Prevention Month
Suicide is the leading cause of death among youth aged 10-19. Educators have the power to make a difference. Reach out to Becky Cain in our Office of Student Wellness and Supports if you need ideas about where to start. As of July 16, 988 is the national three-digit phone number for all mental health, substance use, and suicide crises. Materials are available for schools to order to help promote 988 and BeThe1SD.
---
Sept. 19, 2022
Connect students with career possibilities
The Future Workforce Finder is an online matching system that gives students and businesses across South Dakota a new way to connect. The goal of the Future Workforce Finder is two-fold: attract potential employees for business and industry and allow students to explore careers available in their home state. South Dakota businesses have begun to register and showcase student opportunities like internships, job shadows, tours, and classroom visits. Educators can now create accounts and start exploring opportunities. Educators are also encouraged to share this resource with businesses in their community and encourage them to sign up if they haven't done so already. This employer engagement resource for schools offers tips for deepening connections with businesses in your community.
---
Aug. 23, 2022
K-5 STEM Education Grants available
Science, Technology, Engineering, and Math (STEM) education can play a pivotal role in encouraging students to be active participants in their own learning. The Department of Education is offering K-5 STEM Education Grants designed to support the development of new, and expansion of existing, K-5 STEM programming, materials, and resources. Eligible applicants are nonprofit community-based organizations, education cooperatives, and public school districts.
---
Aug. 19, 2022
Board of Education Standards meeting postponed
The next meeting of the South Dakota Board of Education Standards has been postponed and a new meeting date will be announced soon. This meeting would have included a public hearing to consider the adoption and amendment of proposed rules. The meeting was previously scheduled for Aug. 22 and is being postponed to review comments that have been submitted.
---
Aug. 15, 2022
Proposed Social Studies, CTE standards released
Proposed standards for Social Studies and several Career and Technical Education (CTE) areas have been released. Members of the public are invited to read the standards and provide public comment.
---
Aug. 8, 2022
State board to hold public hearing
The South Dakota Board of Education Standards will consider rules designed to prohibit the adoption of academic content standards that promote inherently divisive concepts and to revise language regarding waivers of administrative rules, at its meeting Aug. 22. Public comment is now being accepted via rules.sd.gov.
---
Aug. 8, 2022
New leadership opportunity targets teachers
Applications are open for the new Dakota Dreams Teacher Leadership Academy. This FREE academy offers South Dakota teachers an experience-based learning opportunity to develop their leadership skills and explore administrative roles and responsibilities in schools. This opportunity is being offered by the Board of Regents and Department of Education.
---
Aug. 8, 2022
CTE Innovative Equipment Grants now available
DOE's Office of Career and Technical Education is now accepting applications for CTE Innovative Equipment Grants. Entities may apply as a single district or as a consortium for award amounts of $100,000 to $250,000. Applications are due Nov. 1.
---
July 18, 2022
School meal applications required for SY 2022-23
Families that may qualify for free or reduced-price school meals will need to submit an application for SY 2022-23. Waivers that allowed schools to serve universal free meals, due to the pandemic, have expired. Schools should communicate early and often with families about the application process.
---
July 11, 2022
South Dakota receives highest IDEA ratings
South Dakota has received the highest rating possible under the Individuals with Disabilities Education Act, or IDEA, for Parts B and C for federal fiscal year 2020. The state is one of only 15 across the country to meet the requirements of IDEA under both Parts B and C, according to information released recently from the U.S. Department of Education.
---
July 1, 2022
Applications open for Statewide Mentoring Program
The Statewide Mentoring Program provides a first-year teacher access to a mentor teacher for a period of two years and participation in a summer academy following the first and second year of employment. Applications for the 2022-23 school year are now open. Mentors and new teachers who complete the mentoring program meet the credit requirements to renew their teaching certificate. Visit the Statewide Mentoring Program webpage for applications and more information.
---
July 1, 2022
USDA issues transitional nutrition standards for next two school years
The U.S. Department of Agriculture has announced school nutrition standards for school years 2022-23 and 2023-24. This rule will provide a transition period by establishing nutrition standards for milk, whole grains, and sodium for the next two school years while USDA works with schools, industry, families, and other partners to develop long-term standards to be in place by SY 2024-25. Learn more on USDA's Building Back Better with School Meals website.
---
July 1, 2022
Is your school truly PREPaREd to respond to a crisis?
Do you have plans in place to keep your students not only physically safe, but also psychologically safe in the event of a crisis? The state currently has grant funding to make PREPaRE workshops available at no cost to school professionals across South Dakota. Find more information on these workshops. Questions? Email Amber.Kilburn@usd.edu.
---
July 1, 2022
Changes to accountability rules proposed
The department is proposing changes to ARSD 24:55 Public School Accountability System. The Board of Education Standards will take up the proposal July 18 in Pierre. The proposed rules will revise criteria pertaining to attendance, coursework readiness, exiting the English learner program, and comprehensive and targeted support designation calculations. Visit https://rules.sd.gov/ to learn more. Follow the Department of Education link, then look for "ARSD 24:55 (Public School Accountability)." Click the comment deadline date to provide public comment.
---
May 17, 2022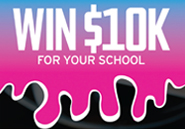 Governor Noem announces three West River schools named winners of $300K in fitness equipment
Today, Governor Kristi Noem and fitness icon Jake "Body by Jake" Steinfeld announced the winners of the DON'T QUIT! Fitness Center campaign, awarding three West River schools $300,000 in fitness equipment.