Hot Topic Archive:
Aug. 15, 2022
Proposed Social Studies, CTE standards released
Proposed standards for Social Studies and several Career and Technical Education (CTE) areas have been released. Members of the public are invited to read the standards and provide public comment.
---
Aug. 8, 2022
State board to hold public hearing
The South Dakota Board of Education Standards will consider rules designed to prohibit the adoption of academic content standards that promote inherently divisive concepts and to revise language regarding waivers of administrative rules, at its meeting Aug. 22. Public comment is now being accepted via rules.sd.gov.
---
Aug. 8, 2022
New leadership opportunity targets teachers
Applications are open for the new Dakota Dreams Teacher Leadership Academy. This FREE academy offers South Dakota teachers an experience-based learning opportunity to develop their leadership skills and explore administrative roles and responsibilities in schools. This opportunity is being offered by the Board of Regents and Department of Education.
---
Aug. 8, 2022
CTE Innovative Equipment Grants now available
DOE's Office of Career and Technical Education is now accepting applications for CTE Innovative Equipment Grants. Entities may apply as a single district or as a consortium for award amounts of $100,000 to $250,000. Applications are due Nov. 1.
---
July 18, 2022
School meal applications required for SY 2022-23
Families that may qualify for free or reduced-price school meals will need to submit an application for SY 2022-23. Waivers that allowed schools to serve universal free meals, due to the pandemic, have expired. Schools should communicate early and often with families about the application process.
---
July 11, 2022
South Dakota receives highest IDEA ratings
South Dakota has received the highest rating possible under the Individuals with Disabilities Education Act, or IDEA, for Parts B and C for federal fiscal year 2020. The state is one of only 15 across the country to meet the requirements of IDEA under both Parts B and C, according to information released recently from the U.S. Department of Education.
---
July 1, 2022
Applications open for Statewide Mentoring Program
The Statewide Mentoring Program provides a first-year teacher access to a mentor teacher for a period of two years and participation in a summer academy following the first and second year of employment. Applications for the 2022-23 school year are now open. Mentors and new teachers who complete the mentoring program meet the credit requirements to renew their teaching certificate. Visit the Statewide Mentoring Program webpage for applications and more information.
---
July 1, 2022
USDA issues transitional nutrition standards for next two school years
The U.S. Department of Agriculture has announced school nutrition standards for school years 2022-23 and 2023-24. This rule will provide a transition period by establishing nutrition standards for milk, whole grains, and sodium for the next two school years while USDA works with schools, industry, families, and other partners to develop long-term standards to be in place by SY 2024-25. Learn more on USDA's Building Back Better with School Meals website.
---
July 1, 2022
Is your school truly PREPaREd to respond to a crisis?
Do you have plans in place to keep your students not only physically safe, but also psychologically safe in the event of a crisis? The state currently has grant funding to make PREPaRE workshops available at no cost to school professionals across South Dakota. Find more information on these workshops. Questions? Email Amber.Kilburn@usd.edu.
---
July 1, 2022
Changes to accountability rules proposed
The department is proposing changes to ARSD 24:55 Public School Accountability System. The Board of Education Standards will take up the proposal July 18 in Pierre. The proposed rules will revise criteria pertaining to attendance, coursework readiness, exiting the English learner program, and comprehensive and targeted support designation calculations. Visit https://rules.sd.gov/ to learn more. Follow the Department of Education link, then look for "ARSD 24:55 (Public School Accountability)." Click the comment deadline date to provide public comment.
---
May 17, 2022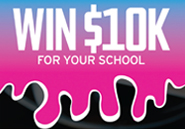 Governor Noem announces three West River schools named winners of $300K in fitness equipment
Today, Governor Kristi Noem and fitness icon Jake "Body by Jake" Steinfeld announced the winners of the DON'T QUIT! Fitness Center campaign, awarding three West River schools $300,000 in fitness equipment.